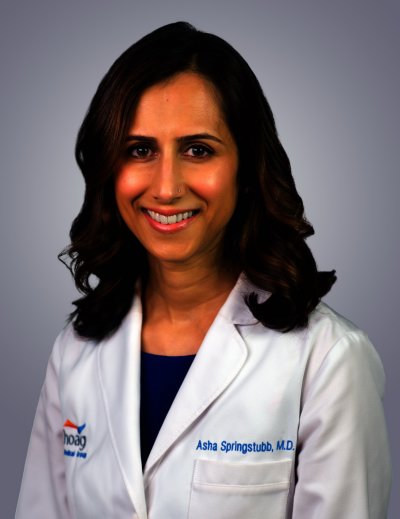 Aditi B. Springstubb, M.D.
Aditi B. Springstubb, M.D.
Board Certifications:
American Board of Internal Medicine - Internal Medicine
Groups & Affiliations:
Hoag Medical Group
Hoag Memorial Hospital Presbyterian
Currently not accepting new patients
Next Availability: Newport Beach
Next Availability: Newport Beach
Important: Online scheduling is not intended for emergencies. Please call 911 or go to the hospital if you are experiencing a medical or psychiatric emergency.
About Aditi B. Springstubb, M.D.
Aditi (Asha) Springstubb, MD has always been drawn to the sciences and medicine but her true enjoyment comes from interacting with people. By nature, she is enthusiastic and compassionate, which is evident in her approach to practicing medicine.
She provides high quality, patient-centric care with a focus on patient education and preventative care. Her goal is to empower her patients with the tools they need to actively engage in their healthcare decisions, and to maintain an open dialogue with them. As such, her patients view her as part of their "support system" and feel comfortable discussing all questions and concerns. According to Dr. Springstubb, "I value the trust my patients place in me and I want them to be involved in every step of their care. This partnership is essential to our success."
Trained as an internist, Dr. Springstubb enjoys treating her adult patients across all areas of general medicine. She has a particular interest in women's health, diabetes, and high blood pressure, and she participates in clinical research and community projects in these fields.
A devotee of lifelong learning, Dr. Springstubb studied molecular biology at Pomona College, received her medical degree from University of California, Los Angeles (UCLA), and completed her residency at University of California, San Diego (UCSD). She is excited that her seven years of practice have brought her to Hoag Medical Group.
A strong believer in a balanced lifestyle, Dr. Springstubb enjoys spending time with her husband and two children, exploring fitness trends, and experimenting in the kitchen. She is fluent in Spanish and Hindi and accepting new patients.
Insurances Accepted / Provider ID Numbers
Aetna - 5078835
Anthem - Z64415
Blue Shield - 100201144011
Cigna - 0572354020
Scan - 996-182891
United Healthcare - 0326600019