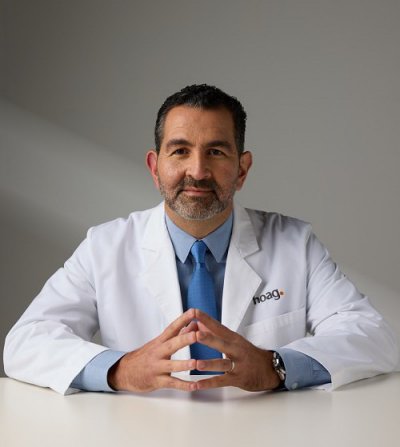 Board Certifications:
American Board of Neurological Surgery - Neurological Surgery
Groups & Affiliations:
Hoag Physician Partners
Prime Surgery Center Newport Beach
Phone
:
(949) 383-4190
About Burak M. Ozgur, M.D.
Burak Ozgur, MD is a neurosurgeon and Chief of Service for the Neurosurgical Spine Program at Hoag Hospital, Newport Beach. Dr. Ozgur is double board-certified by the American Board of Neurological Surgery and the American Board of Spine Surgery. He specializes in minimally invasive surgical techniques for common degenerative and complex disorders of the spine including tumors, scoliosis, and trauma. Dr. Ozgur also has a strong interest in stem cell research, spinal biomechanics, and innovative minimally invasive spine surgery development and research.
He received his undergraduate degree in biological sciences from the University of California, Irvine (UCI) and attended medical school at the University of Vermont, College of Medicine. Dr. Ozgur completed his neurosurgery residency, as well as a combined orthopedic surgery/neurosurgery spine fellowship, at the University of California, San Diego Medical Center.
Dr. Ozgur has authored over 25 articles in peer-reviewed publications, has made over 95 presentations at various venues, has written nine book chapters, and recently published a surgical textbook, Minimally Invasive Spine Surgery: A Practical Guide to Anatomy and Techniques. Dr. Ozgur is also a member of the Society for Minimally Invasive Spine Surgery, AANS/CNS Spine Section, Society of Lateral Access Surgery, AANS, CNS, and the North American Spine Society. Dr. Ozgur also serves as the director of the D.I.S.C. Sports and Spine Center in Newport Beach and is also on staff at Cedars-Sinai Medical Center.
Insurances Accepted / Provider ID Numbers
Aetna
Anthem
Blue Shield
Cigna
Scan
United Healthcare
Request An Appointment
* Denotes required field. For your security, please do not use this form to share personal information, health information, social security numbers or credit card numbers. Instead, we recommend contacting your clinic and/or doctor directly. We will try to reply to you within 48 business hours. Sorry, we cannot provide diagnosis or treatment by email. If this is a medical emergency, call 911 immediately.