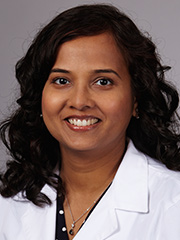 Gayathri Sadashiva Naik, M.D.
Languages
:
Hindi
Kannada
Sanskrit
Telugu
Board Certifications:
American Board of Internal Medicine - Internal Medicine
About Gayathri Sadashiva Naik, M.D.
Dr. Naik is a specialist in internal medicine, with a focus in endocrinology-related disorders and treatments. She serves adult patients at the Hoag Medical Group location in Irvine, California.
Hoag's reputation for outstanding and highly personalized patient care was one of the primary factors in Dr. Naik's decision to join Hoag Medical Group (HMG). Her desire to become a doctor so that she could help others was instilled in Dr. Naik as a child, when she would accompany her father, who had type 1 diabetes, during frequent trips to the hospital in their native India.
Dr. Naik says HMG's individualized, patient-centric philosophy goes hand in hand with her strong belief that doctors should be able to spend unhurried, quality time with their patients, listening to and counseling them, and building long-term relationships based on respect, kindness and trust.
Not only is Dr. Naik passionate about delivering excellent patient care, she also believes it is important to give back to the community. While studying medicine in India, she served as a volunteer on several health-related initiatives, including campaigns to raise public awareness about AIDS, malaria and tuberculosis, and efforts to curb polio and diabetes.
Dr. Naik graduated from Bangalore Medical College in India and completed her residency at John H. Stroger Jr. Hospital of Cook County in Chicago. In addition to English, she speaks Hindi, Kannada and Telugu. She has been in the United States since 2004.
In her spare time, Dr. Naik enjoys reading, painting and embossing, playing the keyboard, yoga, meditation, gardening and cooking. She and her husband and their two young daughters live in Irvine.
Insurances Accepted / Provider ID Numbers
Aetna - 9259917
Anthem - Z64407
Blue Shield - 100196956008
Cigna - 297361984
Scan - 996-182886
United Healthcare - 0326600094