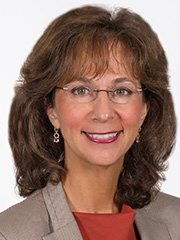 Specialties
:
Reproductive Endocrinology and Infertility
Obstetrics/Gynecology
Board Certifications:
American Board of Obstetrics & Gynecology - Obstetrics and Gynecology
American Board of Obstetrics & Gynecology - Reproductive Endocrinology/Infertility
Groups & Affiliations:
Hoag Physician Partners
MemorialCare Outpatient Surgery Center - Laguna Hills
Saddleback Hospital
Saddleback Memorial Medical Center
Mission Hospital Regional Medical Center
St. Jude Medical Center
MemorialCare Surgical Center at Saddleback Memorial
Phone
:
(949) 287-5600
About Jane L. Frederick, M.D.
Practicing in California since 1990, Dr. Jane Frederick is an internationally noted specialist in Reproductive Endocrinology and Infertility. She is the Medical Director of HRC Fertility in Orange County, where she developed a diverse clinical practice in reproductive surgery, IVF, and PGD: the genetic screening of embryos. Dr. Frederick is board certified in both Reproductive Endocrinology/Infertility and Obstetrics/Gynecology from the University of Southern California.
As a renowned speaker, Dr. Frederick has educated medical colleagues in the area of fertility preservation, and age and reproductive issues with numerous publications. She has held many posts with organizations active in the advancement of reproductive medicine including the Pacific Coast Reproductive Society (Past President), and the American Society of Reproductive Medicine.
Dr. Frederick has received a variety of honors for her outstanding work in the field, and recently ranked among the top 10% in the nation from U.S. News and World Report. Recently, Dr. Frederick has been featured in a number of TV and media outlets such as E!'s, True Divas, KTLA Morning News, ChicagoLand TV, and KFWB Radio with Phil Hulett.
Insurances Accepted / Provider ID Numbers
Aetna
Anthem
Blue Shield
Cigna
Scan
United Healthcare